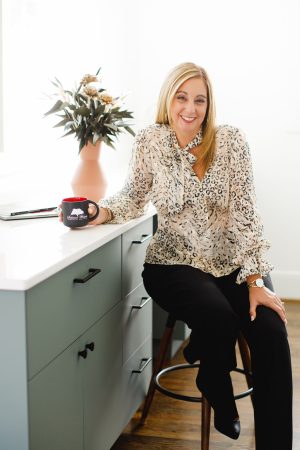 Twenty years ago, Sabrina's life took a dramatic turn, leading her to feel a profound empathy for families experiencing similar hardships. This empathy prompted her to leave her home of thirty-one years in New York and establish her own family and legal practice in North Carolina. For nearly two decades, Sabrina has been dedicated to assisting families in her community with planning for and navigating through the most difficult times in their lives. Estate Planning and Probate have been the specific and purposeful focus of her career.
Sabrina's commitment to her work has not gone unnoticed! She has been recognized as one of the 50 Most Influential Women by the Mecklenburg Times and received the prestigious Elite Attorney Honoree for Women with Know How Making An Impact Award. In addition, Business Leaders has listed her as one of the Top 50 Entrepreneurs, and her blog on Estate Planning and Probate has been voted one of the Top 25 by LexisNexis, a leading legal platform.
As a member of both the National Academy of Elder Law Attorneys (NAELA) and the North Carolina Chapter of NAELA (NCNAELA), Sabrina's knowledge in her field is well-regarded. Her insights and innovative approach to structuring her law firm to serve clients in Estate Planning have even led LexisNexis to commission her to write a manual on the subject.
Perhaps the pinnacle of Sabrina's achievements, however, was her admittance to practice law before the United States Supreme Court. Standing before all the Justices in this esteemed institution was a once-in-a-lifetime opportunity and a tremendous honor for her.
On a more personal note, when not in the office, Sabrina can often be found at the soccer field, cheering on her midfielder! Soccer has always been significant part of Sabrina's life, stemming from her Italian upbringing. She also enjoys cooking, playing the piano and spending quality time with her family.
Awards and Accomplishments
United State Supreme Court
Top Rated Lawyer on Avvo for 2017, 2018, 2019, 2020, 2021, 2022. 
Google Reviews of 51 clients rated 4.9.
Elite Attorney given by a company named Women with Know How 2013
Top 50 Entrepreneurs 2012 given by Business Leaders for outstanding leadership, dedication, determination and entrepreneurial success.
50 Most Influential Women given by The Mecklenburg Times 2021
Awarded by Lawyers of Distinction recognizing excellence in Estate Planning 2020, 2021, 2022, 2023
Awarded by Attorney and Practice Magazine Top 10 Estate Planning Attorney 2022
Awarded 10 Best Attorneys 2018, 2019 by American Institute of Legal Counsel
Nominated 50 Most Dynamic Women 2023
Nominated and Accepted into Know Women 2022 Charlotte