Awards & Accomplishments
Sabrina Winters is honored to have been recognized both nationally and locally as one of the premier attorneys in the areas of probate and estate planning.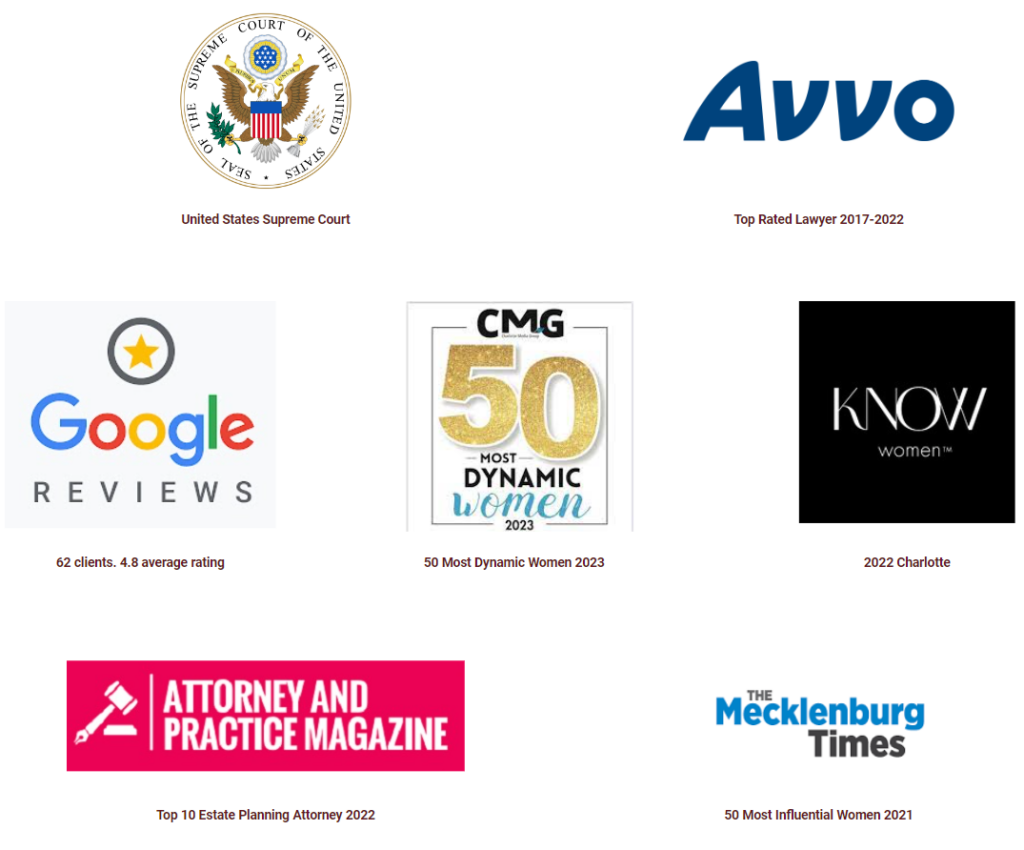 Susan Macdonald
May 9, 2023.
Sabrina Wimters was wonderful in meeting our needs and wishes for Estate Plannimg. She really listems and pays close attention to detail. She is professional, kind, and thoughtful of others.
Heath Macdonald
May 8, 2023.
Sabrina is very professional and detailed. She makes sure that everything is the way you want and need. Very happy with her and glad we used her services.
Marina Richards
May 3, 2023.
Ms. Winters is very thoughtful and thorough regarding estate planning. Answers questions in a timely manner.
Carolyn Shinn
April 28, 2023.
Sabrina is an absolutely wonderful person that I would recommend.
Sandra Breakfield
April 3, 2023.
Sabrina Winters is a confident and engaging speaker. She is very focused, prepared and extremely organized. Sabrina captivates her audience with her knowledge and understanding of the material that she covers without overwhelming them with to much information. The time and effort that Sabrina puts into each presentation is evident...the PowerPoint slides and the real life stories definitely complement her delivery style. Sabrina is awesome to work with!! Sandra Breakfield, Program Director Elder Ministry Catholic Charities Diocese of Charlotte
KristineandKen Orr
April 2, 2023.
As our oldest daughter embarked on heading to college, we found ourselves in need of sending her out of state with legal documents that gave us piece of mind if something, God forbid, happened and we needed access to medical and financial information for our adult child. Sabrina provided great guidance for us as parents but more importantly she created an environment for our daughter to learn and not be intimidated by transitioning to college and needing legal documents for her protection. We highly recommend Sabrina Winters and everyone at her practice!
Nesha Pai
March 31, 2023.
Sabrina took care of my situation at a very fragile time in my life. It was an emotional process for me and she handled it like a gem. She took care of my needs and made sure that my son and I had security. Her pricing is very reasonable related to the value and expertise she offers. We have now become friends and I feel safe with my trust and will in her care. Updated, in 2023, I have seen tremendous growth in Sabrina's firm. I had to redo my will and she made it SO EASY and efficient. Also I have seen her speak and she is a powerful educator in this space. Anyone would be lucky to have her speak for their organization.
paul gargano
March 27, 2023.
Sabrina Winters is an awesome speaker and writer. Her presentations are first class. If you haven't had her do a seminar for your group or company, give her a call!
Karen Reardon
March 23, 2023.
I met Sabrina for the first time at a Death and Dying Seminar at one of the largest churches east of the Mississippi. She presented the importance of having your affairs in order, the processes involved and dealing with the after-death issues that many are not familiar with. Sabrina speaks with great clarity, confidence and quickly gains the trust of all those in attendance. I personally learned about the laws in North Carolina and was able to use much of the information with dealing with families in my own business. She has and will continue to be a great source of information both in person during her speaking engagements as well as her videos on various subjects. I highly recommend Sabrina