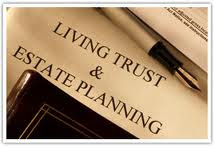 They say there are only two things in life that you can count on – death and taxes. An estate planning attorney helps you plan for the inevitability of death, as well as the possibility of mental or physical incapacity prior to death. The key word here is PLAN. Each individual comes to an estate planning attorney with a unique situation, so each plan must be different. Though your estate plan will be created according to your specific goals and needs, here are some of the main aspects of the plan that an estate planning attorney can create for you:
Preparing a Last Will and Testament or Revocable Living Trust
A last will and testament as well as a revocable living trust are the documents that allows you to determine how your assets are distributed after your death. If you die without a will or trust in the state of North Carolina, then the state will dictate the distribution of your assets. Your estate planning attorney will help you to create a will or trust that takes into account all of your assets. These may include your belongings such as your jewelry or cars, your home and land, as well as investments and insurance policies. Your last will and testament or trust will spell out all of the details – who gets what, and when.
Naming a Guardian and Preparing a Trust for Minor Children
If you have minor children, then an estate attorney can assist you in naming a guardian as well as writing a trust for your children within your last will and testament or revocable living trust. Rather than just hand over a sum of money to someone who is not old enough or fiscally responsible to properly manage it, creating a trust can help to ensure that the money you leave is used for the care and education of your minor children as you see fit. The care of your minor children is a very important part of the estate plan, and your attorney will make sure you have considered all aspects of care in your plan.
Preparing Advanced Directives
Though you may seek the services of an estate planning attorney to protect your assets and make sure that your loved ones are the recipients of your wealth, every estate plan should also contain a durable power of attorney and a healthcare power of attorney. These documents allow you to appoint someone who can make decisions for you if you should become incapacitated. Your durable power of attorney should be someone you trust to make medical and financial decisions on your behalf.
This is a basic overview of some of the documents that an estate planning attorney can create for you. However, there are many more details to consider.   Everything from charitable donations, to minimizing estate taxes, to the specifics of your end of life care should be considered. An estate planning attorney is the expert who will help you create a detailed plan with the i's dotted and t's crossed. Consulting an estate planning attorney to create your end of life plan will allow you to be confident that your plan is solid, and will be carried out according to your wishes.