Wait?? So, What happened with the Estate of Marvel Comic's Stan Lee?
According to a court document filed recently, comic book publisher, Marvel Comic's Stan Lee moved to dismiss claims against Lee's former business manager, Jerardo "Jerry" Olivarez. The terms of the deal weren't disclosed. The settlement doesn't include claims against Lee's former attorney, Uvi Litvak.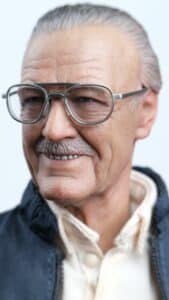 The Hollywood Reporter's recent article entitled "Stan Lee's Estate Settles Elder Abuse Suit Against Ex-Business Manager" explains that the four-year legal saga, sparked by The Hollywood Reporter's investigation detailing accusations of elder abuse, centers on a fight over the Estate of Marvel Comic's, Stan Lee. The estate battle includes his daughter, J.C., and people who allegedly manipulated her in an effort to exploit her famous father. Lee accused J.C., his only child and heir to his estate, of verbally abusing him.
J.C.'s outbursts turned physical at some points in conflicts over money, reports say.
The executive vice president and publisher of Marvel Comics, Stan Lee sued Olivarez and Litvak in 2018, calling them "unscrupulous businessmen, sycophants and opportunists" seeking to take advantage of him following the death of his wife, Joan Lee. Olivarez joined Stan's inner circle as a consultant to J.C. and Joan's various business endeavors before ending up with power of attorney over Marvel Comic's Stan Lee after Joan's death. He was given the title of "senior adviser," handling caregiving duties for Lee.  What Power Does an Executor Have?
"Jerry Olivarez and JC Lee, Stan and Joan Lee's only daughter and Trustee of the Lee Family Trust, are happy to announce the resolution of their Court dispute," said Olivarez's attorney Donald Randolph in a statement. "The genesis of this dispute was the unfortunate manipulation of Stan Lee and his family undertaken by certain individuals — not named in the lawsuit — which was intended to unfairly malign Jerry Olivarez. These individuals exerted undue influence on the Lee family to accuse Jerry Olivarez of harmful acts which he did not do."
According to the complaint, Olivarez fired Stan Lee's banker of 26 years along with his lawyers and transferred roughly $4.6 million out of his bank account without authorization. After convincing Lee to sign a power of attorney to give him authority, Olivarez allegedly appointed his own lawyer, Livtak, as Lee's lawyer without disclosing the conflict of interest.
Prior to his death, Lee alleged fraud, financial abuse of an elder, and misappropriation of name and likeness, among other claims.
How to get Power of Attorney In North Carolina
"Olivarez abused his relationship of trust with Lee and JC Lee, knowledge of Lee's and JC Lee's confidential business and  estate planning operations, and ability to mislead Lee due to his advanced age all in a covert and intentional effort to dupe Lee into a host of schemes and financial missteps that benefited Olivarez and disenfranchised Lee," reads the complaint.
Charlotte Estate Planning Attorney Answers, "Can I Name More Than One Person as My Power of Attorney?"
Reference: The Hollywood Reporter (July 27, 2022) "Stan Lee's Estate Settles Elder Abuse Suit Against Ex-Business Manager"
What's Going on with the Estate of Marvel Comics Stan Lee?
Suggested Key Terms: Elder Law Attorney, Elder Abuse, Financial Abuse, Sabrina Winters, Charlotte Attorney, Charlotte Lawyer, Estate, Trusts, Wills, Marvel Comics Stan Lee, Comic Book Creator Stan Lee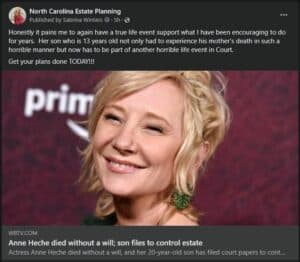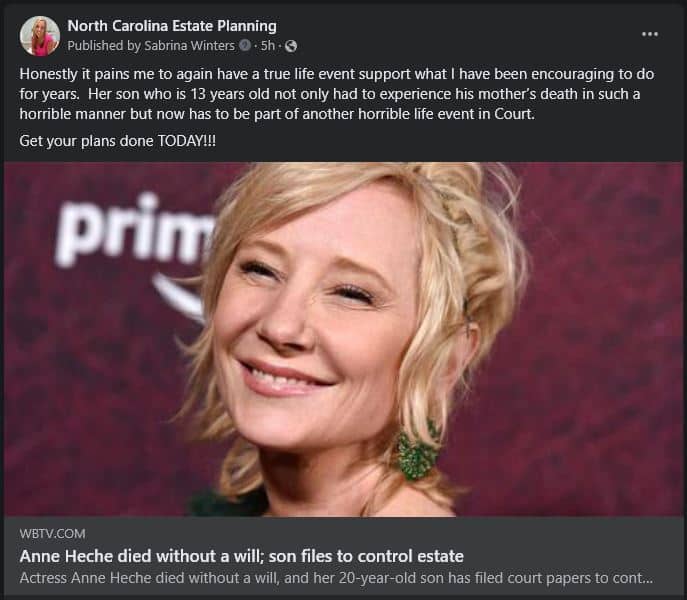 What's Going on?
The Estate of Marvel Comic's Stan Lee, and in the very recent Anne Heche situation, her son is having to rush to file, to take control of Anne Heche's estate because she died without a will.   This doesn't have to happen to you. 
You can call us at 704-843-1446 or you can visit ncestateplanninginfo.com to book a call and use our self-scheduling link to handle it on your own. Either way, it is super easy and painless!